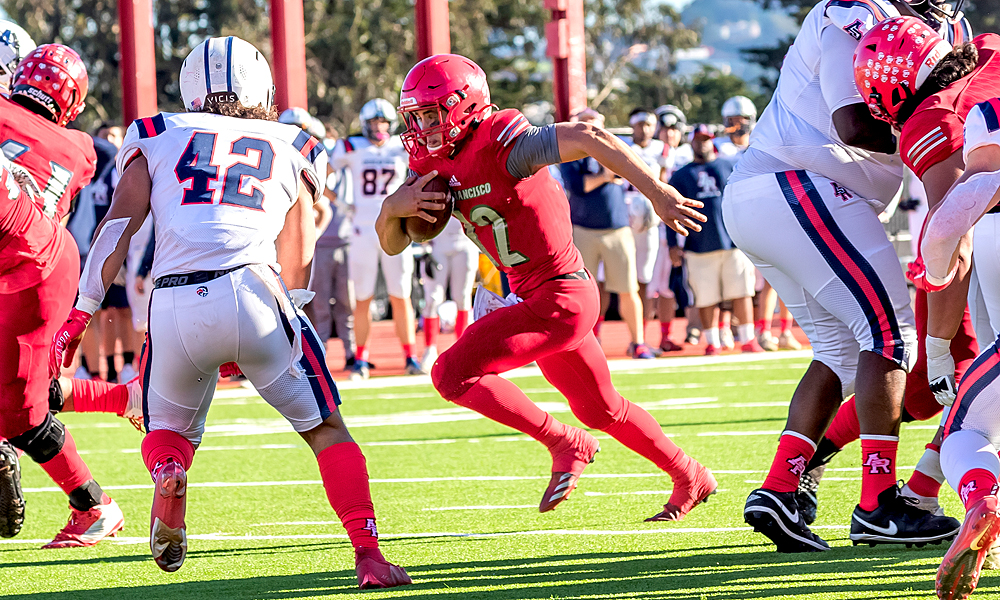 City College of San Francisco quarterback Jack Newman tossed a pair of touchdown passes and ran in two TDs on his own to help lead the No. 1-seeded Rams to a 35-17 win over No. 4 American River College in the Northern California Regional Playoffs on Saturday at George M. Rush Stadium.

The victory sends CCSF to the Northern California Championship game where they will host No. 2 College of San Mateo on Dec. 4 at noon. CSM was a 31-14 winner over No. 3 Fresno City College in the other NorCal semifinal. The winner will advance to the California Community College Athletic Association (CCCAA) State Championship on Dec. 11 at the site of the Southern California champion.

The Rams improved to 11-0 on the season with Saturday's win, their second of the season over American River. CCSF had to overcome an early deficit before cruising to the victory.

ARC struck first, getting a 37-yard field goal on its opening drive of the game to take a 3-0 lead at the 10:36 mark.

The Rams responded with a seven-play, 67-yard drive that was capped by the first of two Newman one-yard TD plunges that put CCSF in front 7-3 with 6:59 to go in the first.

Just before the end of the first quarter, the Beavers completed a long 12-play drive with a 21-yard TD pass from quarterback Robert Jones to Sawyer Merrill. American River led 10-7 entering the second, but that advantage wouldn't last for long.

Newman connected with Daelin DeGraffenreid for a 24-yard touchdown strike at the 11:51 mark and closed out the half with a 34-yard TD pass to Jeffrey Weimer with 37 seconds left to send the Rams into the locker room leading 21-10 at the break.

After a scoreless third quarter, Newman ran in for his final TD to extend the Rams' lead to 28-10 with 10:27 to play. American River finally broke up CCSF's scoring surge with a two-yard touchdown run by Tariq Parker with 6:40 left.

ARC would get no closer. With 23 seconds remaining on the clock, D'Andre Greeley sealed the CCSF win with a 49-yard interception return to a touchdown.

Newman closed out the game just shy of 300 yards passing, completing 21 of 31 passes for 299 yards with no interceptions and two touchdowns.

Shawn Allen led the Rams on the ground with 19 rushes for 73 yards. Roderick Gaskins Jr. led receivers with seven catches for 109 yards while Weimer caught seven passes for 85 yards and a TD.

The Rams' defense limited the Beavers to 290 yards. The D came up with four sacks in the contest and totaled nine tackles for loss. Elias Rantissi, Sincere Jackson, and Rocky Katoanga all had eight tackles to lead the Rams.

Samuel Siasoi totaled four tackles, including two for loss and a sack. Trenton Halloway had five tackles and broke up two passes.