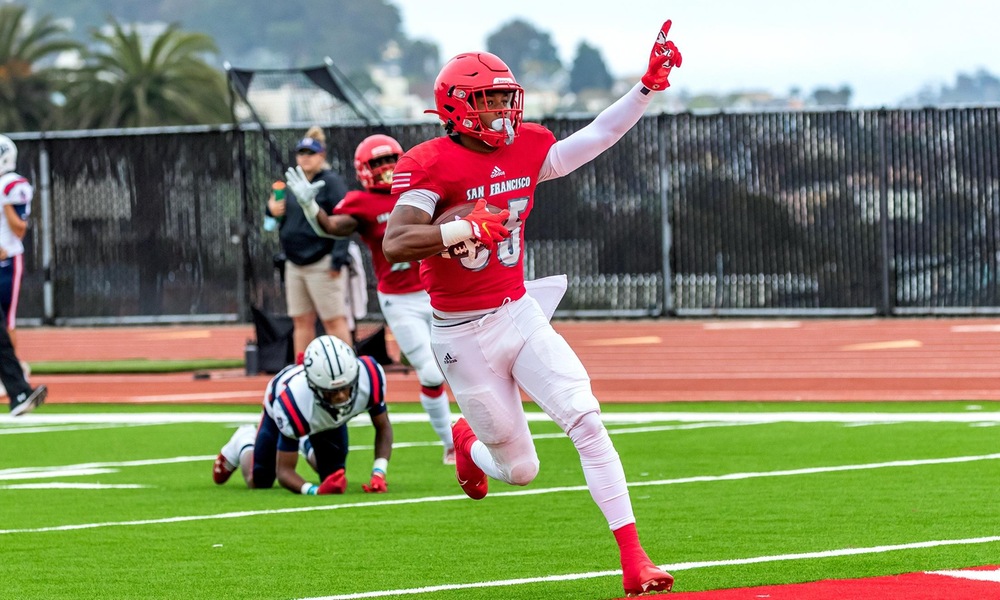 Quarterback Jack Newman passed for 400+ yards and four touchdowns for the second consecutive game while the City College of San Francisco defense totaled five interceptions in another convincing victory, a 51-14 win over visiting American River College on Saturday at George M. Rush Stadium.

The 4-0 Rams are averaging 51 points and 558 yards of offense per game while the defense has allowed just 12 points per contest.

San Francisco actually trailed early for the second straight game on Saturday. American River capped a six -play, 40-yard drive with a 25-yard touchdown run by Grant Patterson to give the Beavers a 7-0 advantage at the 6:39 mark in the first.

The Rams offense came alive on their next drive. Newman tossed his first TD of the game, a 14-yard strike to Max Rodarte to tie up the contest. And CCSF went ahead on the ensuing kickoff thanks to a fumbled return by American River that was recovered in the end zone by the Beavers, resulting in a safety and a 9-7 San Francisco lead with 3:22 to go in the first.

CCSF extended its lead to 16-7 after Newsman's 21-yard TD pass to last week's standout, Jeffrey Weimer, at the 11:19 mark in the second. ARC responded with a Patterson to Terrell Littlej eight-yard TD to get American River within two points (16-14) before the teams went into the halftime break.

The CCSF defense tightened in the second half, shutting out the Beavers over the final 30 minutes of play. It was the Rams' secondary that took over, ending five of seven ARC drives with interceptions.

Sam Lockett had two of those interceptions, including one he returned 33 yards for a touchdown in the third quarter.

Newman threw second-half touchdown passes to Omin Oglesby (32 yards) and Devan Walker (16 yards), while Walker (1 yard) and Calel Olicia-Aramboles (23 yards) broke free for rushing touchdowns to lead the Rams to a 35-point outburst over the final two quarters.

Newman closed his day completing 27 of 37 passes for 417 yards. He threw just his second interception in 99 attempts this season but is averaging a state-leading 388 yards passing so far this season. His 15 passing touchdowns are also No. 1 in the state.

Rodarte caught seven passes for a season-high 121 yards and Weimer had six receptions for 101 yards.

On defense, D'Andre Greeley also had a pair of interceptions, Devin Arnold picked off one pass, while Trenton Holloway, Sincere Jackson, and Frederick Thompkins all led CCSF with six tackles.

The Rams return to action next Saturday (Oct. 2) when they host Santa Rosa Junior College in a 1 p.m. non-conference game.